The Green Party online survey to capture public views on the future of Tralee Courthouse has concluded. The vast majority of respondents have expressed a clear view that the existing building should be retained as a Court and no development of a new courthouse should commence on the Island of Geese.
The survey was conducted online over the month of September and all submissions were anonymous.
Green Party representative for Tralee, Anluan Dunne said: "It is clear that the majority of people want the court to remain where it is. The previous review of the historic building by the OPW must be re-assessed. We have highly talented architects skilled in heritage conservation who can produce a design to satisfy the needs of the Courts Service, legal professionals and the public. Let us lay out the challenge and invite proposals to refurbish the building in a way that is fit for purpose."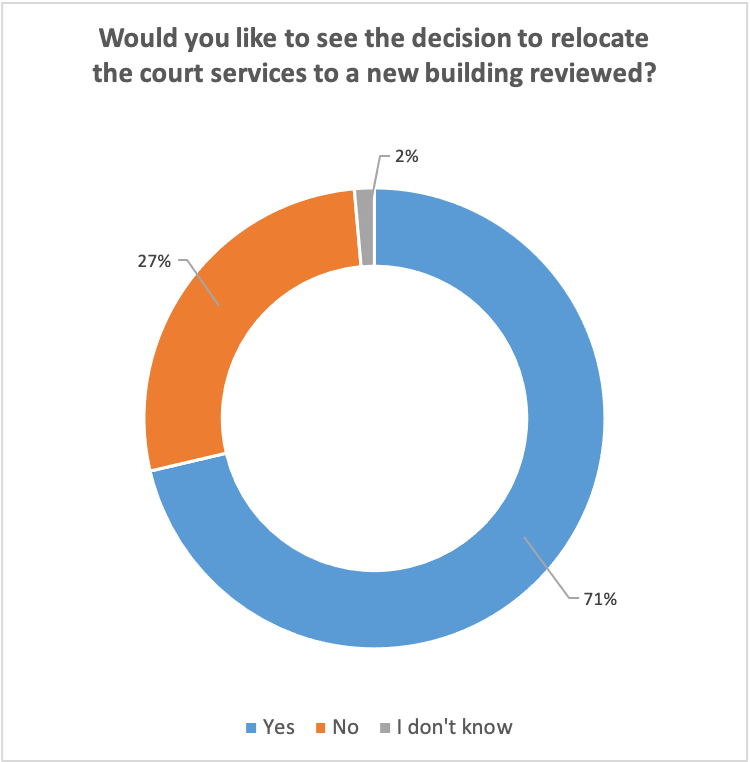 Over 70% of people wish to see the decision by the Courts Service to seek a new building reviewed. Since the survey began the Department of Heritage has sought to form its own opinion on the building.
Hopefully a feasibility study could be undertaken with regard to the cost of renovation and the cost of a new building. It would be damaging to the town to have another building vacant, falling into disrepair

Respondent #48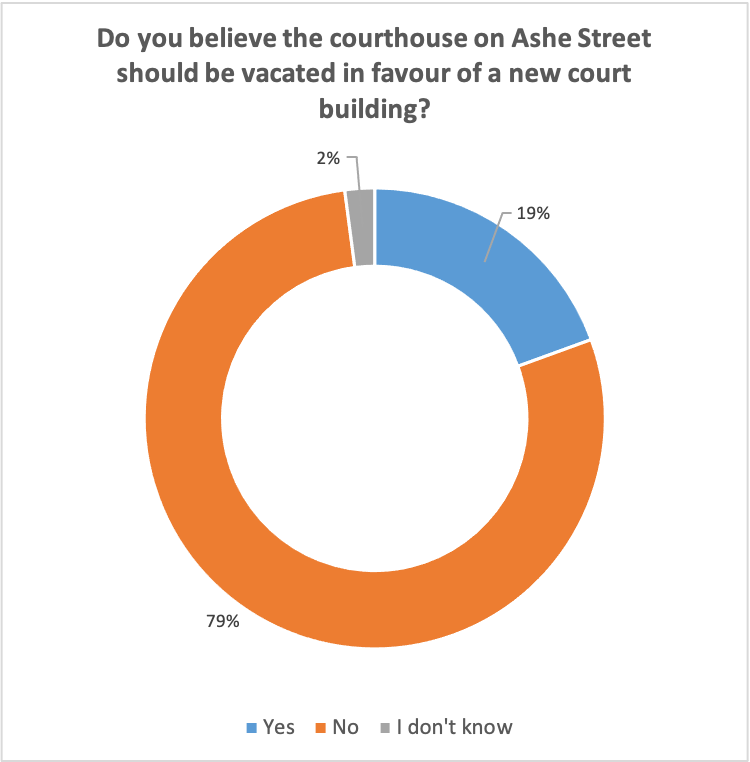 Close to 80% of people do not want the Courts Service to re-locate away from the heritage building. In proximity to the court on Ashe Street are the professionals who provide the legal services for the court to operate. The cafés, restaurants and other businesses in the area rely on the large number of people working in the town centre. Relocating the court would hollow out the centre.
The existing courthouse should be refurbished. Our architectural heritage should be protected

Respondent #63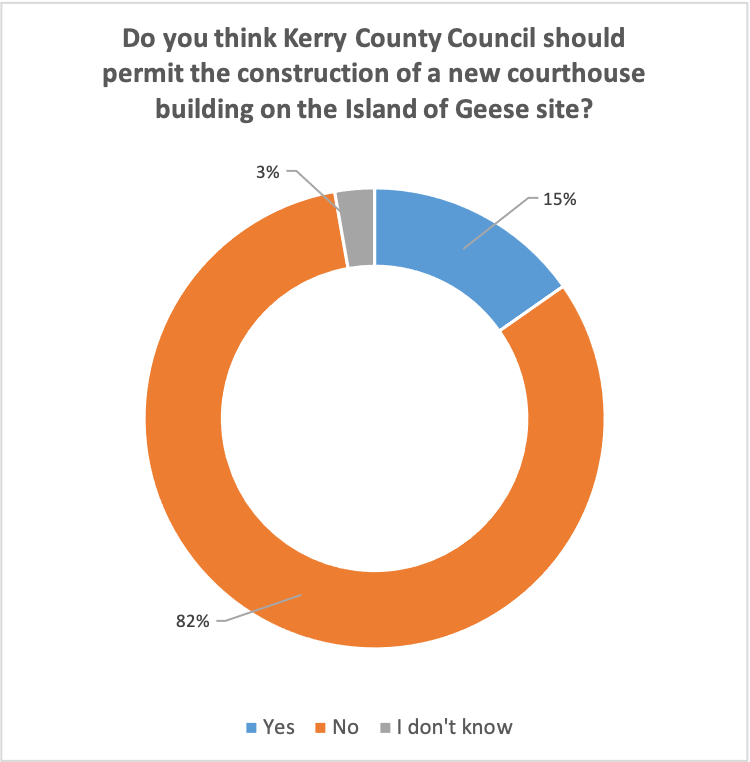 The Island of Geese site has undergone a significant consultation where the public gave their view on the use the substantial parcel of land. No one wants the court moved here.
That site should be used to build a centre for the youth of Tralee and Kerry so they have some where to go… Not A courthouse. It's a disgrace if it gets the go ahead

Respondent #80
Anluan Dunne concluded: "On one hand, we hear criticism of private property owners for lack of maintenance of the historic buildings which they own such as those in the town centre. Yet on the other we see two arms of the state actively working to abandon a key historic structure. The most responsible approach is to retain the existing building. It's the lowest carbon option, maintains our heritage and promotes the upkeep and use of heritage building. "
---
Respondent Comments:
Just renovate it and use it as a courthouse
The old courthouse should be upgraded
Spend money on the old one, it's such a fine building
The courthouse is in dire need of refurbishment, it's outdated and old.
What they have proposed/decided is a waste of a fantastic building and taxpayers money.
Why replace something which doesn't need replacing..
Current Tralee Court House could be transformed into a music venue.
Renovate the existing building, it will stand the test of time and remain a building of pride.
No courthouse in the island of geese, this belongs to the people of Tralee not the minister for justice.
Use the courthouse as a heritage centre or arts centre
Beautiful building in town centre, should be renovated and upgraded as our courthouse. We dont need ANOTHER derelict building in the town centre
It's time people were listened to
Renovate and modernize the old courthouse
Island of Geese was left to the people of Tralee, not the court services
The Island of Geese was gifted to the people of Tralee. Tralee offers nothing to teenagers and I feel the town would benefit if they were catered for.
Revamp the old court house.
The courthouse in Tralee has always been a focal point of the town, its a beautiful building and just needs updating. It would be such a shame to lose it, Island of Geese was gifted to the people of Tralee should it not be them who decide what is to be done with it
Island of geese is an ideal location in the town. It needs to be kept in the town to create an atmosphere in that area and will bring people to that area and in turn will support coffee shops, cafe in the local area
The island of geese is a great location for the court services. If the original courthouse cannot be modified to serve the courts, surely it can be adapted to serve the town for another function I.e accommodation for the elderly or homeless. A facility for wellness, mediation, support groups etc
Money is ring fenced for this €18.5 million, it can be renovated!
The Court House is the most defining feature in the town, it would be a shame to blight the town with some modern brutalist build.
As we have already seen with the island of geese KCC are not interested in public input
I see no logical reason to move the courthouse.
Continued under investment in our town is making decisions like this one seem like the right thing to do
If Waterford Court can operate then there is no reason for tralee to be adequate (as is) for years

Can we have a dog park and can we please have an investigation into the administration of the lawn style graveyard as it seems some porkies were told to ppl in power
Did jury duty there and apart from a good refurb I can't understand why it's being abandoned…
The courthouse is a beautiful historic building in the centre of Tralee and has massive history and tradition. An entrance and exit at the back of the courthouse could be engineered and constructed to cater for disabled people. I would be very disappointed if we do not preserve this building as the courthouse.
Restore Ashe street court house
The current building should be retained. The current building should be refurbished to a modern standard. The refurbishment should include, proper access for all people. It should be fit to facilitate jury trials, District Court Work, proper accommodation for family law applicants, office accommodation and other ancillary services. If necessary the purchase of property/ground adjacent to the current building should be explored. This is a once in a 200 plus year opportunity to get it right, the town and people deserve it. If the current building is vacated it will lead to further degeneration of the town centre. This is a beautiful building part of our heritage and part of our history. The Island of Geese was gifted to the people Tralee. I'm not taken by any elected representative who worked there years and years ago arguing that a courthouse can't be built on it for sentimental reasons. If that is entertained then we will never have progress. The Garda station is no longer fit for purpose but with a little imagination such as realigning the street between the island of geese site and the current Garda station an extension could be facilitated, our Garda are a community police force and have given great service to the community of Tralee and its hinterland.
I just can't understand how it can be permitted to build another one. It would cost a lot less money to do up the remaining one, which is very much always been part of Tralee. I hate the fact they want to change everything. Leave the courthouse where it is, it's history where it belongs.
Make the old court house into a Rose of Tralee museum.
The Courthouse at a minimum should be kept in usage for civil law matters if the OPW will not invest enough money to use it as a criminal law courthouse
Current courthouse to be repurposed as a museum focusing on the history of the building.
Court house in Tralee draws nothing but scumbags to town
It must be possible to renovate the current courthouse to get it up to standard.
It's an old building crime is in the rise a new court house is needed, so island of geese is the best
option, courthouse museum beautiful building needs to be preserved and generate finance somehow
If the court house in Ashe Street is unsuitable, why not re build it. It should be done in about a year if half the red tape was omitted.
Renovate the current building so it is fit for purpose. It's a historic courthouse and should be retained.
The courthouse is a beautiful building therefore the interior should be renovated and made handicapped accessible.
The current building is far too small. It can't be extended in any direction. For it to become a modern courthouse it needs to be made bigger the only way to do this is to enlarge the footprint therefore ruining the historical look of the building. There is no space around it to add on a modern building to the back or sides like the did in cork city district court. A suggestion that the courthouse be split and certain functions of the court take place in other existing buildings around the town is ridiculous. How is someone who needs to appear as a witness say from Waterville who doesn't often visit Tralee supposed to know where they are going, they will be stressed enough at that time without them spending ages going from building to building to find the correct location. Tralee courthouse should be exactly that, The courthouse where all functions of the court take place. Many people for many reasons need to visit the courthouse. It's not just accused criminals. Witnesses, jury members, people engaging with family court and people with specific needs all of which are absolutely entitled to feel safe and not intimidated while in the courthouse. In my opinion this absolutely can not be achieved in the building it is currently in. Even it's location isn't great. The people of Tralee and Kerry who for whatever reason need to visit the courthouse deserve a modern accessible and safe building.
Building a new courthouse on the Island of Geese site would very much reduce the space for other facilities, recreational and cultural.
The present courthouse should be modernised and invested in.
The court house in Tralee is a beautiful building, our local council have shamefully destroyed so many heritage sites in our town. What we will be left with is a soul-less town centre, with nothing but rubbish blowing up the 'new and improved' pedestrian haven. Tralee used to be a bustling market town, it is so sad to see what successive councils have done to it. What happened to fixing what we have first ? Refurbish the court house
I believe the courthouse in its current form is antiquated and not fit for purpose. The courthouse should be converted into a Kerry Gaa Museum and Rose of tralee Museum and highlight all that Tralee is synonymous with.. A new courthouse with associated parking, egress and proximity to Tralee gardai station on the island of geese would be ideal or alternativelly relocated to Ballymullen Barracks
The island of geese was gifted to the people of Tralee, not the court service. Invest in the towns history and renovate/update the current courthouse in Ashe street. Use the Island of Geese as a local attraction for the people who own it.
There is enough empty buildings in the town with reuse one of them or fix what we got waste of money building something they'll just abandon in 10 years time
The Island of Geese was donated to the people of Tralee, not for the courts to build a new fancy building on it. I think its very arrogant of them to think they can do this. The people of Tralee need amenities, outdoors places to congregate and meet. Outdoor markets in a specific designed setting. What we don't need is a new court when we have one already.
The money that's been possibly earmarked for a new Courthouse building should be invested in the current one. ((Obviously the money is there) there is a derelict building to the rear that could be bought/compulsory taken as its run down and not been lived in for years. As it's a listed building and a landmark of importance, a good Architect could be employed to come up with ideas, (even a scale model) on how best to improve, update & modernize etc in keeping with the building. Another historical building across the road the KPH, currently and for years unoccupied, could be utilized and incorporated into the plans. The OPW have the money & power to do this.
As for the Isle of G., this was gifted to the people, entrusted to the Council.. this should be respected!
Thanks for allowing me, through this survey to air my views.
The Tralee Courthouse is a fine example of neoclassical architecture from the 19th Century. It is an iconic part of Tralee town: instantly recognisable to residents and visitors alike. In times gone by it was a prominent vantage point to watch the festivities of the Rose of Tralee Festival. It is steeped in history and impressively represents our past.
In an era where it is often easier (and cheaper) to tear down and build anew, some consideration should be given to the possible refurbishment, renovation and revitalisation of our architectural treasures. With due respect to modern architecture, there are more than enough nondescript and soulless, concrete steel and glass edifices already filling our towns.
Listed buildings are protected all over the country. The courthouse is part of Tralee's identity…at least give it a fair hearing.
Leave the court house where it is. You have all this money for building a new court house so why can't you use the money to revamp the current court house?
Thank you for bringing this matter up for public attention. The Island of Geese was granted to the people of Tralee as an amenity area to enhance the area and quality of life of its residents. It's a cop out by KCC/Court services to now want to construct a new Courthouse on that site. The Courthouse on Ashe Street is a magnificent building that has been neglected and given no thought. When the building across the road from it came up for sale, KCC should have thought outside the box and purchased that property to use for the Court offices. Now it looks like another opportunity could be lost if the only solution is to build a new Courthouse. I feel very strongly that we should keep and maintain our heritage and not run off and build another "glass box". The people of Tralee should fight and protest to keep our Courthouse. We have little enough heritage buildings left as it is. We need to upgrade Tralee town and bring back some of our older buildings into use again. The town is shabby and neglected and it's about time it's residents and visitors were heard.
Hopefully a feasibility study could be undertaken with regard to the cost of renovation and the cost of a new building. It would be damaging to the town to have another building vacant, falling into disrepair
The existing Courthouse can be adapted to make it completely accessible for all. This building situated where it is, adds vibrancy, business and life to Ashe St. We have enough empty white elephants in town, without letting this historical, magnificent structure become another….plenty of architects and their plans, could make it accessible quite easily. The Island Of Geese area, should be used for permanent Farmer's Markets weather proof structures, along with other uses, as many had suggested before, though these ideas were completely ignored by KCC. Thank You.
I belive the current court house is way to small, there is not enough sitting places as well is very cold in the winter, also front steps for some people cause a challenge. I think that current building as architecture is very old and historical, should be used for memorial or museum purposes. There is definitely need for new modern court house with proper rooms for solicitors and clients, as well judging rooms. So yes, I am in favor of new court building
Existing court house should be renovated internally, but keeping the exterior as it is
Spend the money to repair and make the necessary changes to the current courthouse, otherwise it will be left there to deteriorate more. Use the Denny site to improve the footfall in the town centre.
Could the court be held in maybe ballymullen barracks,plenty parking ,buildings etc,the courthouse could then be transformed into a theatre ,plays music,?
The courthouse should not be built on the island of geese and if pushed there should be a people's protest
Court service should pass ownership of the building to Kerry Co. Co.
I think the old courthouse is a valuable asset to our cultural and architectural heritage, and if at all possible should remain in use.
The development of a "legal quarter" around the Ashe St area to include the Courthouse, KPH and other adjacent, vacant, buildings should be strongly considered.

Moving the Courthouse to the Island of Geese really fails to deliver on the purpose of the Island of Geese
The island of geese will become a Mecca for anti social behaviour and gathering of groups who are up to no good. It was gifted to Tralee for Tralee. Make it too modern and it will look dated and run down very quickly. Put a courthouse there and it leads to gatherings of groups that will potentially lead to anti social behaviour. Look at the English market in cork. See the markets in Melbourne Australia. Keep traditional facades that visitors and natives alike appreciate and enjoy. Tralee is sinking fast and while I hope this project saves it, I just can't see it happening with the plans in place now.
Old courthouse should be used for the people of Tralee. Arts centre or something similar. Island of Geese was donated to the people of Tralee, not the justice department.
Renovate the existing courthouse so it will not turn into an unused building.
I think the court house is a fine looking building and an addition to the town centre. I would like to see it continued to be used as a court house after appropriate renovations.
Adaptation for continued use as a courthouse is the best practice way to maintain our protected structures. There are always creative solutions to be found. The easy answer for non heritage related government bodies is to leave renewal to someone else and make the lazy choice of building anew elsewhere. This is unsustainable and goes against all current policy, town centre renewal, conservation of protected structures and so on. They should be celebrating it, not condemning it. Karol O'Mahony M.RIAI
The existing courthouse should be refurbished Our architectural heritage should be protected
Kerry Group gifted the site to Tralee, not to Dept of Justice.
Existing courthouse is unique in Kerry, easy option is to move site.
I believe the beautiful courthouse building should renovated and made fit for purpose and that The Island of Geese site should be used as intended as a public amenity.
Currently, only 50% of the existing courthouse site is being used. The other 50% appears to be a courtyard/garden. This space should be used to extend the current courthouse.
It would an absolute shame to waste the opportunity to develop the current courthouse..it is a historic building that should be renovated and not left to squalor and become derelict like other buildings in the town centre.
I would like the court house done up it's a fine building I don't like waste of money do it up and it will be fine
We're not going to allow it to be built on the island of geese,
Renovation or ballymullen barracks
Kerry County Council or the courts service should look at other possible locations for a new courthouse.
Biggest issue is what will happen to the building if the court services moves out as no one will relocate in there and the people of tralee will end up maintaining a building which no doubt will cost money.is it not possible to buy some of the surrounding building and update the and use them if the existing building is not fit for purpose. This would be on top of maintaining the existing court house as I believe space is an issue.
Firstly the current court house would take a lot less of crucial public money to renovate and their are many empty buildings in the immediate area that can be used for extra space if needed, secondly the island of geese was giving to the people of tralee to develop and enjoy 0and not a single member of our community wants this area taken up by any government building let alone a court house.
Efforts should be made to update and modernise the existing building.
Upgrade the existing facilities and access instead of taking more and more activity (and subsequently business) away from the centre of our town. It will cost less to the taxpayer than building a completely new facility from scratch and the money saved can be invested elsewhere in the town where it's needed instead of going to the pocket of some outsider developer.
The Island of geese has so much potential for tralee. We have an epidemic of young people who have literally no facilities resulting in antisocial behaviour. Building a new Court house is fine but not in the island of geese. We need more in this town to draw visitors.
T he Courthouse in Ashe Street should be refurbished and remain as a Courthouse.
The courthouse is a symbol of Britain's colonial-imperial past and as such, this past of imposing misery on those less fortunate. The India cannon celebrates the Indian Mutiny of 1857 and the cause of the uprising was racism or racial discrimination wherein Indians were exploited and were kept away from mixing with Europeans. Hey let's celebrate our architectural heritage or knock the cold and damp building down,
Island of geese for people of tralee not to build new court house. Build somewhere else or revamp old building if no site available.
That site should be used to build a centre for the youth of Tralee and Kerry so they have some where to go astro turf /basketball/ skate boarding/ disco hall could all be put in there Not A courthouse It's a disgrace if it gets the go ahead
To put a criminal courthouse in the Island of Geese site shows the total lack of imagination and courage that Kerry County Council seems to have when it comes to developing our capital town. Take one look at Cork City and you will see what can be done. KCC takes the convenient, lazy option yet again.
This is a wonderful historic building, no way should the Court Services be removed, on the wishes if Judges and Solicitors!!! The Public appreciate this fine building in the heart of Tralee, it compliments other buildings like the building across the road from Courthouse, Museum, and Georgian houses and former Bank Buildings on Denny Street. We should be preserving and utilising these buildings. With modern technology and building practices it should be no problem to insulate and make wheelchair access to this building – just as they did with the Cohrthouse in Cork!!! There are enough horrible cement boxes around town – Keep our Historical Heritage it's beautiful.


Island of Geese site is a gift to the town and it's people. Courthouse should be upgraded etc. in it's current location.
Very short sighted to move the courthouse. Tralee needs to look after its heritage buildings and update them for current use instead of abandoning them. Under no circumstances should the courthouse move to the Island of Geese site. The site was gifted to the people of Tralee. It is totally unacceptable for KCC to abuse the people of Tralee by regifting part of the site to the courts service without the Tralee people's consent.