Having the Green Party in government has resulted in an allocation of €1 million euro per day (€360 m p/a) for the life of this government to be spent on active travel. This should funding is designed to enable local authorities, like Kerry County Council, to undertake significant projects to re-prioritise road space.
The Safe Routes to School programme, administered by An Taisce Green Schools, selected five Tralee schools to have safe, active, routes to school provided. This €15 million euro pot of money (nationally) seeks to develop such safe routes rapidly.
At this time, little progress has been made and very little delivered. Funding cannot be the issue as the Department of Transport is willing and able to fund ambitious projects.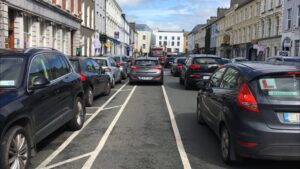 Right now, some schools have a pedestrian or low traffic route to their school but many people still choose to drive. One of the reasons identified is the perception of safety at the school gate due to… people driving their children to school. This catch-22 must be broken.
Corresponding with Chief Superintendent Eileen Foster of Kerry Gardaí, Anluan Dunne sought an increase in the number Gardaí at the school gate to educate & encourage people to park appropriately. Mr. Dunne said "School gate chaos is visible to all. We have a situation where we are asking people to choose sustainable travel, but we are not enabling people to make that choice by providing them with safe routes to school and a safe school gate environment. My request to Chief Supt. Foster was to provide a Garda presence to educate motorists and enforce traffic law for everyone's safety."
Mr. Dunne spoke to Jerry O'Sullivan on Radio Kerry on the 19th of October, 2021 on the matter.